:::::::::::::: Overview :: Positions :: F.A.Q :: Apply ::::::::::::::
Program Overview
American Forum is a nonprofit media organization that works to encourage more citizen debate on important state issues by providing professionally prepared and easily used materials to print, broadcast and new media outlets seeking commentary from a state point of view.

Internship opportunities at our National Headquarters in Washington, DC are a great way for college students and others to gain experience in the media field. College students can even earn college credit for a Forum internship. Our internship program provides students with hands-on experience in media and public policy areas. Interns are also encouraged to participate in all organizational activities, especially training sessions.

We offer internships year round. Interns can work full-time or part-time. In selecting interns, we try to match student skills with our project requirements and organization needs. To be considered you must be a full- or part-time continuing college or university student. We anticipate offering two to four intern positions during each term.

Full-time Intern Program
Full-time interns are required to work a minimum of 35 hours per week. Interns work on a variety of projects over the course of the semester. Interns also participate in weekly status meetings where they learn more about each of the functions within American Forum and about the industry in general.

Some of the projects that interns are involved with may include:
First-hand observation of how the media impacts and influences public policy debates
Targeting and developing relationships with media decision-makers and the nonprofit community
Monitoring media coverage of Forum material
Evaluating and analyzing information and data, including preparation of accurate summaries of research on usage for national and state boards
Editing and drafting media alerts, press releases, public service announcements and marketing materials
Researching and pursuing relevant grants and funding opportunities
Coordinating meetings and events, including press conferences, annual meetings and special events
Understanding and applying the fundamentals of graphics, production, printing, video and broadcast, IT and emerging media.
The summer program runs for 10 weeks beginning in late May/early June. The fall & spring/winter programs run for 15 weeks. The Fall term begins early September and Spring/Winter begins mid-January.
Part-time Intern Program
If you are attending college near our office and would like to intern part-time while attending class, we encourage you to submit your resume and cover letter. Be sure to include in your cover letter what days and hours you would be available to intern with us. Minimum of 15 hours/week or 3 days/week required.
Part-time interns have many of the same professional opportunities as full-time interns. You also will be invited to participate in training and other activities while you intern with us.
Send resumes, transcripts and school requirements to:
American Forum
1071 National Press Building
Washington, DC 20045
Fax: 202-638-1434
Email: interning@mediaforum.org
Past Interns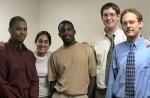 Dan, Faryal, Albert, Rian, Joe



Heba and Amy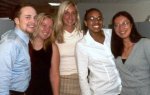 Toby, Trina, Alexis, Sherita, Angela




Staff and Interns